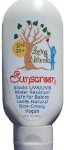 Natural skin care is very important, especially for sunscreens, which have to be applied frequently.  Due to this frequent     application many of us are concerned about  chemicals that could be absorbed into skin.  You will also find that may of the    so called natural products doesn't seem so natural  – after reading the long list of ingredients, which are hard to pronounce or      that  that you have never heard of.
We do like this sunscreen because it has 100 % natural ingredients, blocks both UVA and UVB rays. SPF 30, 5 oz bottle, water resistant and non greasy.
Loving Naturals SPF 30 Sunscreen Zinc Oxide 5 Oz. UVA/UVB Vegan
Tip for fair skinned people : this sunscreen leaves the skin a little bit more pale.  Just by adding a little bit of  make-up balances out the color.