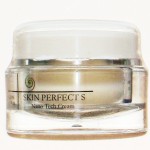 This skin cream  is  a good example of what we consider  a to be a  good  " High Tech " addition to a natural skin care regimen.   This lightweight cream works with a new type of delivery system. It  safely and effectively restores youthful appearance, skin texture and  prevents premature aging – the perfect solution in the line of advanced  anti-aging products.

So, how is it supposed to work ? Main feature of this anti-aging cream is a new Peptide complex (Oligopeptides, SNAP-8, Sodium DNA and Sodium RNA) which restores and also brightens skin.
And what about the wrinkles? One of ingredients is  Acetyl Glutamyl Heptapeptide-1. This Peptide complex is non-toxic amino-peptide developed specifically to reduce wrinkles and the signs of premature aging.  Acetyl Hexapeptide 3 is considered  a cost-effective alternative to injections and surgical procedures.
It also contains a powerful mix of antioxidants and  Co-enzyme Q10. Co-enzyme Q10 is a natural component, found in every cell, and is potent factor assisting in cell renewal and defense against free radicals.
Skin Types : Mature – Dry – Normal – Combination
Tip : do not expect immediate result,  give this power-cream 6 weeks . Change takes times. Important : Use it sparsely !
Directions : Apply to face once daily. Caution: For external use only. Do not use over open wounds.   Avoid eye and mucous membranes. Keep in a cool, dark place. Prolonged exposure to light will weaken this product's effectiveness.
Key Ingredients: Oligopeptides,  Co-Enzyme Q-10, Red Wine Extract, Vitamin C, Vitamin E, SNAP-8, Sodium DNA and Sodium RNA, Silk Protein, Sea Mineral Complex.
One Response to "The Best Anti Aging Skin Products – Nano Cream"