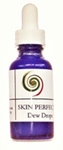 This innovative concepts combines a Bio-Lift Peptide Complex with PGA (Gamma-Polyglutamic Acid), Vitamins, and Resveratrol. It is suited as a natural anti aging treatment, also assists in  brightening skin tones and it is the perfect natural moisturizer for all skin types. Suitable also for oily skin.
Comment: We think Dew Drops is the perfect name for this daily moisturizer.  It is a light gel, very smooth and easy to apply.  When we tried it , we noted that our skin felt nice and smooth after application. It  prevents early signs of skin aging  by very gently brightening skin tone and  improving texture and firmness.
This  addictive little blue bottle contains a power mix of Vitamin C combined with Gamma-Polyglutamic Acid (or PGA) and  Oxyresveratrol, a version of  Resveratrol (this component of red wine with lightening and antioxidant properties.
Our recommendation : This natural skin moisturizer  is really  worth a try!  If you decide to try it, please leave a comment, we would love to hear from you about your impressions.  – You can also find  this Bio-Lifting  at Amazon: Dew Drops Moisturizer – 1 oz
Skin Types : Mature – Dry – Normal – Combination – Oily
Key Ingredients: Vitamin C, Gamma-PGA, Oxyresveratrol,  BioLift Peptide Complex.
Unit Size: 1 oz. (30 ml.)
13 Responses to "Natural Skin Moisturizer – Dew Drops"