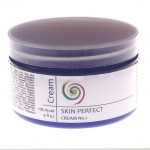 Skin Perfect  Cream No. 1  is  a wonderful light, natural  cream.  We like it, because it is a versatile, all around day or night  natural skin cream with moisturizing and exfoliating features.  Most impressing feature : the quick and easy penetration. It nourishes and leaves the skin silky smooth, soft  fresh without oily feeling.
Based on all natural ingredients.  Parabene free.
Tip: Combines very well with Natural Skin Concepts Cleanser No. 1
Key Ingredients : Organic Extracts from  Aloe, Apricot Kernel Oil,  Green Tea, Bilberry,  Sugar Cane, Sugar Maple, Orange, Lemon, Cranberry, Vitamin E, Mango Butter, Shea Butter, Black Willowbark, Neem Oil.